Parrot Gallery is a project of artists and musicians worshiping at Community Mennonite Church of Lancaster. Art exhibits are open for downtown Lancaster First Fridays and by appointment with church office. Regular gallery talks are scheduled with each featured artist.
"Love of Nature and Life"
As a 76-year-old retired nurse, family therapist, and author, Pauline Zimmerman knows now that art has become a joyful way for her to express what she sees in nature as she hikes through the many local parks and conservancies with friends. From her photos, she then uses watercolors at home to capture what she saw.
Zimmerman's watercolor impressions, "Love of Nature and Life," will line the walls of the Parrot Gallery at Community Mennonite Church of Lancaster, 328 W Orange Street, on First Friday, November 4, 2023, for an opening reception from 5-8:00 p.m.
A newcomer to artistic expression since 2019, Zimmerman describes her process:
          Sometimes I draw the picture with pencil before water coloring and other times I simply paint directly with the watercolors.
          Whenever I paint, I create a picture in my mind beforehand, as well as during the process of painting. I may put several photos together to create the scene that I want. Vibrant colors facilitate my joy. Sometimes when I see the picture on my iPhone, I notice more than I saw when I walked/hiked; and I add that new item.
          The people I paint are friends with whom I enjoy activities. By the time I am finished with a painting, I feel both relieved and satisfied for having expressed my love of nature. I want others to enjoy nature too, perhaps through my paintings.
It all began at a silent retreat with other women at the Jesuit Center in Wernersville when one day she walked past the art studio and felt drawn to it. Zimmerman was curious to see what she was able to do with the available art supplies. Watercolors intrigued and surprised  her as she discovered some artistic abilities! She continues to learn through practice and by observing other artists' work. Artist Bob Ibold offered her guidance in his home art classes, also affirming her artistic talents.
Studio expression and a first solo exhibition seem like additional adventures, given all the places her career has led her: Lancaster Regional Hospital in Rehabilitation and Medical-Surgical Nursing; public health nurse in Lancaster County; hospital nursing administrator and head of a nursing school in Somalia, Africa; nursing administrator of three hospitals in the North Eastern Province of Kenya, and her last nursing position in Kenya at Rosslyn Academy as school nurse. Post-graduate courses at Marriage and Family Council of Philadelphia qualified Zimmerman to have a private counseling practice in Lancaster for the next thirty-three years.
A study book and one memoir–If I Cry, Will You Understand Me? and I Heard and Saw before I Knew—draw on her colorful and sometimes painful experiences. Her vigorous well-being comes through Zimmerman's greatest enjoyments: walking in the woods, watching birds, riding bicycle, painting, reading books and networking with others. She organized a post-retirement hiking group with whom she explores the local conservancies and woods.  More paintings!!
     "Love of Nature" runs from November 4, 2022 through January 1, 2023. The Parrot Gallery is open First Fridays, Sundays, and during the week by appointment. Call 717-392-7567
.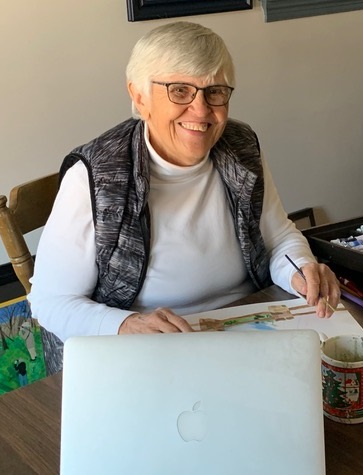 Featured Artist
Pauline Zimmerman