Parrot Gallery is a project of artists and musicians worshiping at Community Mennonite Church of Lancaster. Art exhibits are open for downtown Lancaster First Fridays and by appointment with church office. Regular gallery talks are scheduled with each featured artist.
"South Africa Reflections"
"South Africa Reflections," an exhibit of Renee King oil paintings, makes its Lancaster debut in The Parrot Gallery on First Friday, March 4, 2022, from 5-8:00 p.m. at the Community Mennonite Church on 328 W Orange Street in Lancaster.
Renee King is a lifelong student in the classroom of life. Within this classroom she cites many lessons, gained wisdom, and various roles through the hard knocks of life. But a prominent role has been that of an artist.
Four life-changing trips to South Africa inspired these bold paintings. The first trip in 2008 altered her life as she fell in love with the people and the country.
"Africa. You push me. You pull me. You stretch me. You squeeze me. You make me bend (or I would break) . . ., " King writes in opening lines of her 2008 poem.
            "Africa. You are oh, so big, so full, so enticing, so addicting. You are my connection to the past and the present . . ."
An oil portrait of 78-year-old Sarah Munyai, a famous potter and founder of Mukondeni Pottery with whom King interacted, captures the complexities of women's lives.
Although King's creative mediums have ranged from oil painting, glass work, and writing to cake decorating, this exhibit highlights her stunning oils. She studied traditional oil painting with Charles Philip Brooks at the Maria V. Howard Art Center in Rocky Mount, North Carolina.
Renee grew up in a very conservative environment in rural Lancaster County, PA. Within that culture there was limited means of self expression.  She did appreciate the beauty manifested in the women's quilting and flower gardens. She credits her parents for pushing against the boundaries as it fostered her independence.
As a young adult she moved to the city of Richmond, VA, to attend college and remained there for most of her adult years. She now lives in Lancaster, PA, and is employed as a Hospice RN.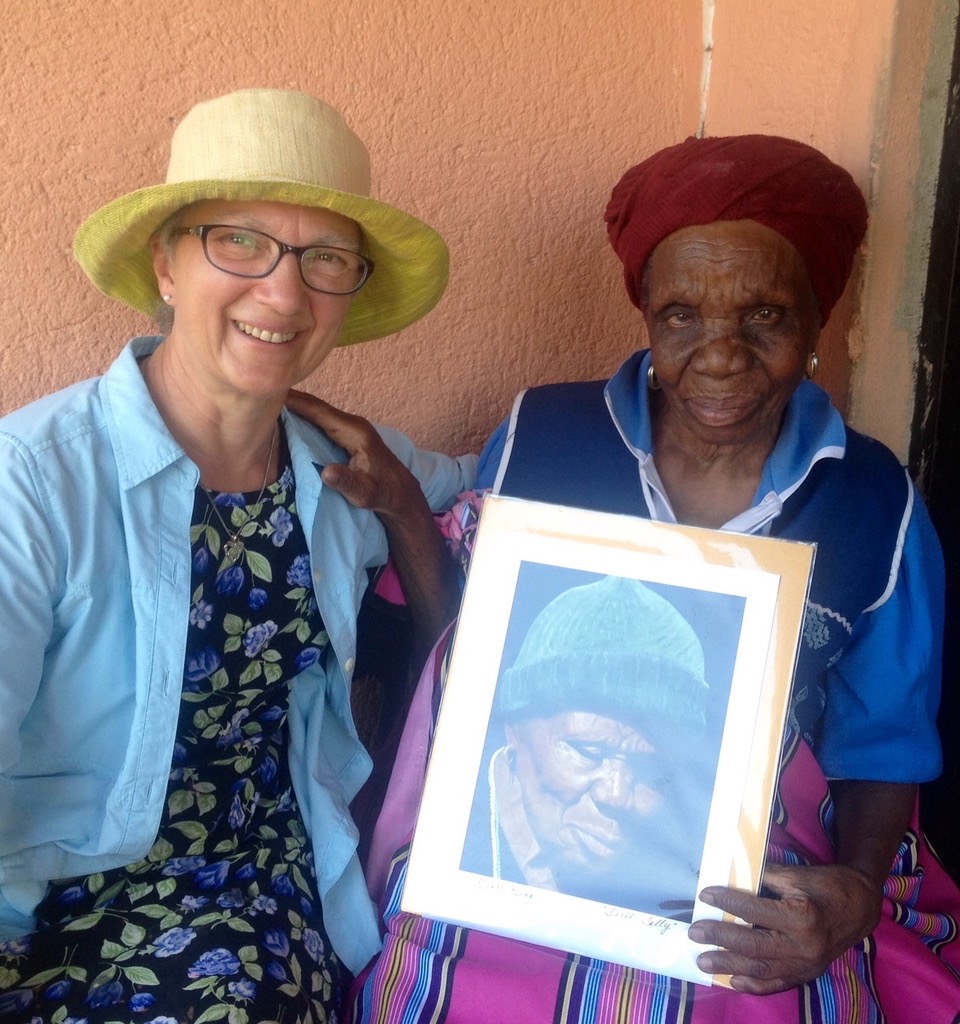 Artist Renee King with Sarah Munyai
Renee King
"South Africa Reflections"
runs from March 4 through May 29, 2022.
The Parrot Gallery is open First Fridays, Sundays, and
during the week by appointment. Call 717-392-7567.