This Holy Week we are posting the artwork that was created by CMCLers for our worship environment. The prompt was the theme, "Holloway," Each day of Holy Week we'll send out images and accompanying statements from two participating artists.
Blessings as you walk this holloway of Holy Week …
We start the week with the art of Mary Lou Weaver Houser and Abigail Foster.
Mary Lou Weaver Houser
secret garden
24 x 36
acrylic
This hidden getaway stone path on our farm which led to a bench was a favorite of children who could hide here among the ostrich ferns and sip honeysuckle "tea."
The holloways we choose now are not necessarily visible to others, but surely bring us to places of inward beauty and sustenance. Mine literally lead to gardens . . . be they human-designed or nature's own wilderness. Among the trees there is healing balm and earthly grounding for such a time as this.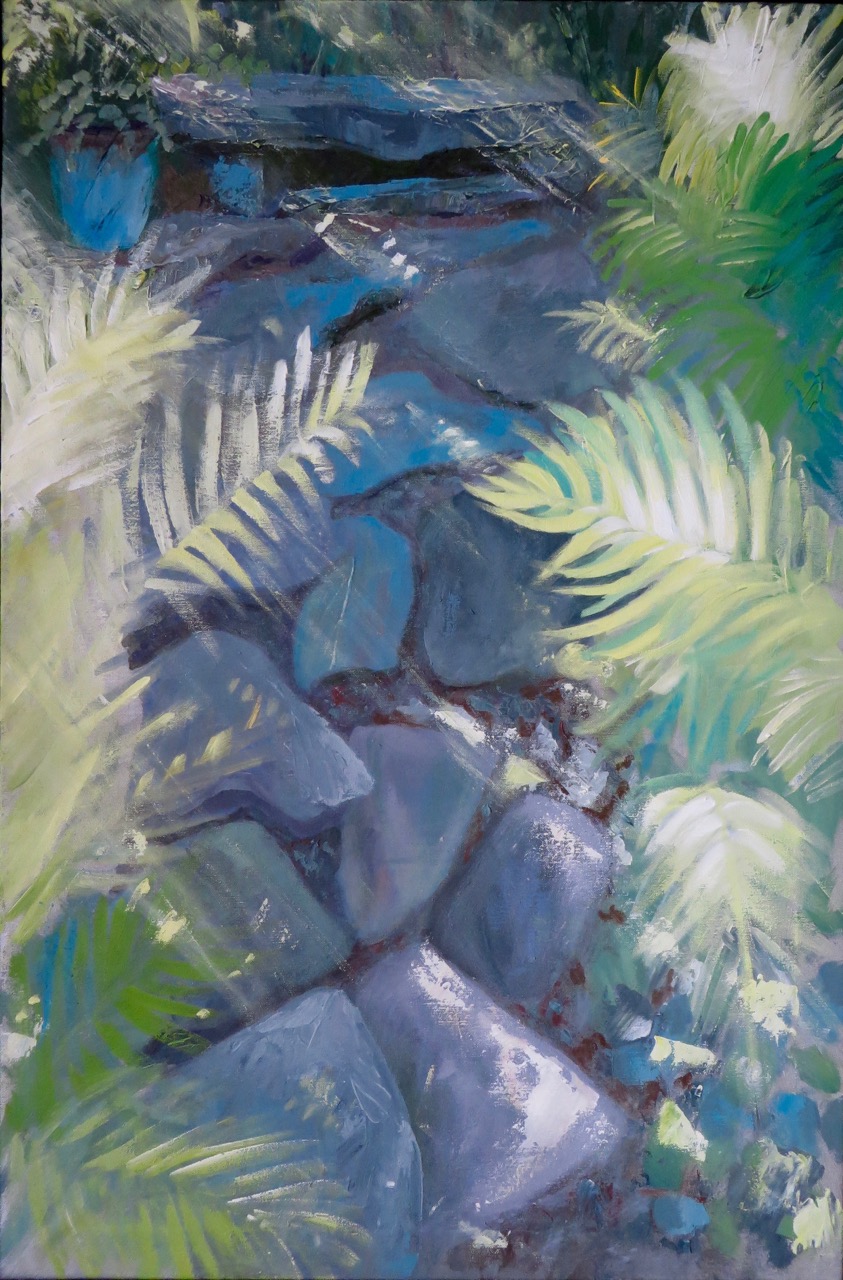 Abigail Foster
        This work is a collection of several ideas/reflections compounding into one collective piece. Both pieces are maps in their own right. The fragments of tiles were collected around this time last year. I was living and working in Italy with an American study abroad program. We spent three days walking along the Via Francigena (a small section of a much larger pilgrimage trail, traditionally running from Canterbury England, down through France, ending in Rome). In the three days we walked both in times of silence and not, often through Holloways. I found myself thinking of all the thousands of feet that had quite literally walked along that trail before me for hundreds of years; all searching, all on different journeys, looking to find God, or meaning, direction, to mourn, to escape, whatever it may have been– I too was walking alongside them. The tiles hanging suspended represent (and perhaps could be looked at as a "birds eye view"of) the many singular paths that we all seem to find ourselves on, as well as a connection to the past. The gold wire felt important, and a subtle hint to divinity and the divine that is found in all of us.  
        The second piece in watercolor was my more "literal" interpretation of a Holloway; sunken, often veiled, and sometimes unable to see the next steps ahead. The painting reflects more a memory of a Holloway rather than a clear image. I wanted to add the gold wire also to this piece as a way to connect back to the tiles and create a view of the pathways/webs/connections that we all have to one another.
        Now given the current state of the world I can't help but see how these pieces reflect the "pilgrimage" we are all on. Although physically separate teetering on our own gold strands, we are also walking together, more interconnected through shared experience.